Adventurous Voyage is a feature that was added in Patch 5.8. It can be accessed from the Farm. Players can obtain Nautical Coins from Voyage events, which can be used to purch items from the Voyage Shop.
Mechanics
---
Havens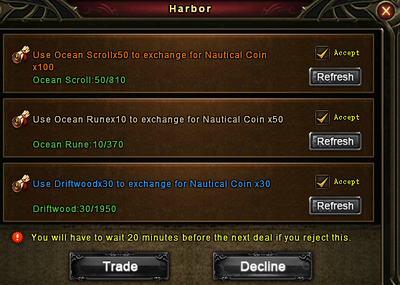 Players can click on the Sky, Dawn, and Blue Havens/Harbors to see the quests that can be completed at each harbor. Each quest requires a random resource in exchange for Nautical Coins; if players have the needed resources, they can click on the accept tick box.
The color of the quest indicates its quality. The five qualities, from lowest to highest, are white, green, blue, purple, and orange. Higher qualities require more resources; in exchange, they give more rewards.
Players can click the Decline button on the lower right side of the screen to change all three quests; however, players will have to wait 20 minutes to be able to make a trade. In addition, players can also click on the refresh button for a quest and spend 45 (Un)Bound Balens to change the quest; this method does not have a wait time.
If players are ready, they can click on the trade button and select a ship to make a trade. Each trade requires an available ship and 20 Energy. Each player starts with 100 Energy per day. Energy is filled up at 00:00 each day. Players can also click on the Buy Energy button in the main Voyage screen and spend 300 (Un)Bound Balens to gain 100 Energy; this can be done twice per day. After beginning a trade, a Voyage Countdown will start; all Voyage Countdowns are initially an hour long, but they can be decreased by upgrading ships at the Dock.
The amount of Nautical Coins received per quest is as follows:
Item Needed
Quest Quality
Quantity Needed
Reward
Bead of Influence
White
15
20 Nautical Coins
Green
20
40 Nautical Coins
Blue
25
60 Nautical Coins
Purple
30
80 Nautical Coins
Orange
35
100 Nautical Coins
Beast Soul
White
5
20 Nautical Coins
Green
10
40 Nautical Coins
Blue
15
60 Nautical Coins
Purple
20
80 Nautical Coins
Orange
25
100 Nautical Coins
Crypt Token
White
100
20 Nautical Coins
Green
200
400 Nautical Coins
Blue
300
60 Nautical Coins
Purple
400
80 Nautical Coins
Orange
500
100 Nautical Coins
Daru
White
2M
20 Nautical Coins
Green
4M
40 Nautical Coins
Blue
6M
60 Nautical Coins
Purple
8M
80 Nautical Coins
Orange
10M
100 Nautical Coins
Dragon Essence
White
20
20 Nautical Coins
Green
40
40 Nautical Coins
Blue
60
60 Nautical Coins
Purple
80
80 Nautical Coins
Orange
100
100 Nautical Coins

Driftwood

White
10
10 Nautical Coins
Green
20
20 Nautical Coins
Blue
30
30 Nautical Coins
Purple
40
40 Nautical Coins
Orange
50
50 Nautical Coins
Eternal Heart
White
5
20 Nautical Coins
Green
10
40 Nautical Coins
Blue
15
60 Nautical Coins
Purple
20
80 Nautical Coins
Orange
25
100 Nautical Coins
Fang of Fear
White
40
20 Nautical Coins
Green
80
40 Nautical Coins
Blue
120
60 Nautical Coins
Purple
160
80 Nautical Coins
Orange
200
100 Nautical Coins
Fate Stone
White
15
20 Nautical Coins
Green
20
40 Nautical Coins
Blue
25
60 Nautical Coins
Purple
30
80 Nautical Coins
Orange
35
100 Nautical Coins
Glint of Magic
White
5
20 Nautical Coins
Green
10
40 Nautical Coins
Blue
15
60 Nautical Coins
Purple
20
80 Nautical Coins
Orange
25
100 Nautical Coins
Gold
White
2M
20 Nautical Coins
Green
4M
40 Nautical Coins
Blue
6M
60 Nautical Coins
Purple
8M
80 Nautical Coins
Orange
10M
100 Nautical Coins
Golden Holy Water
White
20
20 Nautical Coins
Green
40
40 Nautical Coins
Blue
60
60 Nautical Coins
Purple
80
80 Nautical Coins
Orange
100
100 Nautical Coins
Henna
White
200
20 Nautical Coins
Green
400
40 Nautical Coins
Blue
600
60 Nautical Coins
Purple
800
80 Nautical Coins
Orange
1000
100 Nautical Coins
Insignia
White
100
20 Nautical Coins
Green
200
40 Nautical Coins
Blue
300
60 Nautical Coins
Purple
400
80 Nautical Coins
Orange
500
100 Nautical Coins
Kyanite
White
200K
20 Nautical Coins
Green
400K
40 Nautical Coins
Blue
600K
60 Nautical Coins
Purple
800K
80 Nautical Coins
Orange
1M
100 Nautical Coins
Lvl. 9 Luck Stone
White
10
20 Nautical Coins
Green
15
40 Nautical Coins
Blue
20
60 Nautical Coins
Purple
25
80 Nautical Coins
Orange
30
100 Nautical Coins
Magical Moonlight
White
5
20 Nautical Coins
Green
10
40 Nautical Coins
Blue
15
60 Nautical Coins
Purple
20
80 Nautical Coins
Purple
25
100 Nautical Coins
Mahra
White
20
20 Nautical Coins
Green
40
40 Nautical Coins
Blue
60
60 Nautical Coins
Purple
80
80 Nautical Coins
Orange
100
100 Nautical Coins
Mount Hoof
White
10
20 Nautical Coins
Green
20
40 Nautical Coins
Blue
30
60 Nautical Coins
Purple
40
80 Nautical Coins
Orange
50
100 Nautical Coins
Mount Training Whip
White
10
20 Nautical Coins
Green
20
40 Nautical Coins
Blue
30
60 Nautical Coins
Purple
40
80 Nautical Coins
Orange
50
100 Nautical Coins
Nickel
White
40
20 Nautical Coins
Green
80
40 Nautical Coins
Blue
120
60 Nautical Coins
Orange
200
100 Nautical Coins

Ocean Bone

White
10
5 Nautical Coins
Green
20
10 Nautical Coins
Blue
30
15 Nautical Coins
Purple
40
20 Nautical Coins
Orange
50
25 Nautical Coins

Ocean Coin

White
10
1 Nautical Coins
Green
20
2 Nautical Coins
Blue
30
3 Nautical Coins
Purple
40
4 Nautical Coins
Orange
50
5 Nautical Coins

Ocean Rune

White
10
50 Nautical Coins
Green
20
100 Nautical Coins
Blue
30
150 Nautical Coins
Purple
40
200 Nautical Coins
Orange
50
250 Nautical Coins

Ocean Scroll

White
10
20 Nautical Coins
Green
20
40 Nautical Coins
Blue
30
60 Nautical Coins
Purple
40
80 Nautical Coins
Orange
50
100 Nautical Coins
Rose Hazel
White
100
20 Nautical Coins
Green
200
40 Nautical Coins
Blue
300
60 Nautical Coins
Purple
400
80 Nautical Coins
Orange
500
100 Nautical Coins
Shadow Crystal
White
20
20 Nautical Coins
Green
40
40 Nautical Coins
Blue
60
60 Nautical Coins
Purple
80
80 Nautical Coins
Orange
100
100 Nautical Coins
Soul Crystal
White
200
20 Nautical Coins
Green
400
40 Nautical Coins
Blue
600
60 Nautical Coins
Orange
1000
100 Nautical Coins
Soul Seal
Green
100
40 Nautical Coins
Purple
200
80 Nautical Coins
Orange
250
100 Nautical Coins
Sylph Sepulcrum
White
20
20 Nautical Coins
Blue
60
60 Nautical Coins
Purple
80
80 Nautical Coins
Orange
100
100 Nautical Coins
Tenacity Mark
White
15
20 Nautical Coins
Green
20
40 Nautical Coins
Blue
25
60 Nautical Coins
Purple
30
80 Nautical Coins
Orange
35
100 Nautical Coins
Dock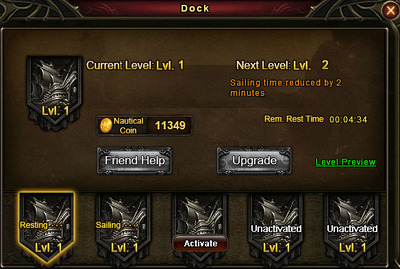 At the Dock, players can upgrade ships to decrease their sailing times, which decreases the amount of time it takes to complete a deal. In addition, players can buy additional ships; players start with one ship and can purchase additional ships for 2000 (Un)Bound Balens each. The costs to upgrade each ship is as follows:
| Level | Cost | Effect | Required Upgrade Time |
| --- | --- | --- | --- |
| 1 | Base | None | None |
| 2 | 40 Nautical Coins | Sailing Time -2 minutes | 10 Hours |
| 3 | 120 Nautical Coins | Sailing Time -6 minutes | 10 Hours |
| 4 | 200 Nautical Coins | Sailing Time -10 minutes | 10 Hours |
| 5 | 500 Nautical Coins | Sailing Time -14 minutes | 10 Hours |
| 6 | 800 Nautical Coins | Sailing Time -18 minutes | 10 Hours |
| 7 | 1200 Nautical Coins | Sailing Time -22 minutes | 10 Hours |
| 8 | 1600 Nautical Coins | Sailing Time -26 minutes | 10 Hours |
| 9 | 2000 Nautical Coins | Sailing Time -30 minutes | 10 Hours |