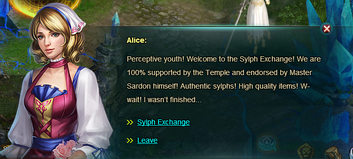 The Sylph Exchange is run by Alice, an NPC who resides within Cloud City.  Alice can be found next to the portal that leads to the Sylph Atoll or in locations inside the atoll. The locations inside only exchange one kind of sylph seal, while the Alice outside will give both. 
By defeating sylphs inside the Sylph Atoll, you are granted the sylph's essence.  Either an Essence of Water from the sylph's on the first tier or Essence of Wind from the sylphs on the second tier.  For sixty Essences of the same type, Alice will trade you a Water Seal or a Wind Seal.  The Seals, when used, will give you a new Iris or Pan sylph to use in your adventures. 
You must be level 50 to access the Sylph Atoll or to trade with Alice.
Exchanging 60 sylph essences to Alice in Cloud City you can obtain a common sylph (white) Pan, Iris, Amazon Queen or Eve.
Exchanging sylph crystalloids, obtained from Defend Sylph Atoll Event, you can obtain:
- Sack of gold (for 30 sylph crystalloids), contains 100,000 gold.
- Soul Crystal Chest (for 150 sylph crystalloids), contains 1,000 soul crystals.
- Rockstar Leopard Card, a permanent mount (for 1,200 sylph crystalloids).
In the images below, Sylph Exchange for sylph essences on the left and Sylph exchange for sylph crystalloids on the right.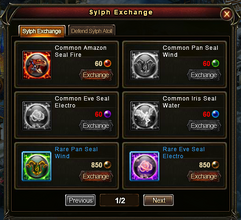 Community content is available under
CC-BY-SA
unless otherwise noted.