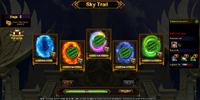 The path to heaven has long been guarded by many powerful creatures, but few know that this path was made to challenge and reward the great warriors of old. Now, the path to heaven has appeared once again, offering the world a chance once again capture Star Tears, Will Crystal Shards and earn the backing of the gods.
Added in patch 2.46 Part 2, Sky Trail is a daily quest which unlocks upon reaching level 60 and can be entered by speaking to NPC General William, north of Cloud City.
Sky Trail received a major redesign in Patch 5.0; see here for the old version of Sky Trail.
Mechanics
Every level has several portals that lead to elemental realms; they can be accessed by clicking the explore button below the portal. Once inside a portal, players can click the explore button in the lower-right corner to increase exploration progress. Every time the Explore button is pressed, there is a chance of receiving rewards, receiving buffs, or encountering a Treasure Thief; defeating the Treasure Thief will give the player a skill.
Every player starts with 500 Energy per day; each Exploration attempt takes 20 Energy. Energy is replenished daily at 00:00 Server Time. If players run out of Energy, 100 Energy can be bought for 200 (un)bound Balens up to three times per day.
Once Exploration progress reaches 100%, players will fight the boss of the realm. Players can fight the boss after defeating it by clicking on the Challenge button below the portal or in the upper right corner during Exploration, but players will not earn any rewards by doing so.
If all Bosses on a level are defeated, players can proceed to the next level by clicking the Next Level button in the main interface.
Players will receive level clearing rewards once they have defeated all bosses on a level.
Players have 10 attempts to participate in the Sky Trail every day. Attempts reset at 5 AM.  Whether or not a stage is successfully cleared, an attempt will be used.
Rewards

For each 5 bosses defeated, players can daily claim 2 Heaven Horns, which can be used in Wishing Wall.
During Exploration, players will receive random rewards. These rewards include the following;
Level Rewards
Level 1
Primary Attribute
Boss
Rewards
Gold
Sylph Sepulcrum
Star Tears
Fire
Mortis
500,000
150

5 Star Tear - Fire
Wind
Thess
500,000
150

5 Star Tear - Wind
Water
Landor
500,000
150

5 Star Tear - Water
Electro
Oubar
500,000
150

5 Star Tear - Electro
Dark
Faye
500,000
150

5 Star Tear - Dark
Light
Apollo
500,000
150

5 Star Tear - Light
Level 2
Primary Attribute
Boss
Rewards
Gold
Sylph Sepulcrum
Star Tears
Water
Philippe
750,000
200

10 Star Tear - Water
Fire
Ender
750,000
200

10 Star Tear - Fire
Electro
Jersey
750,000
200

10 Star Tear - Electro
Wind
Magica
750,000
200

10 Star Tear - Wind
Light
Athena
750,000
200

10 Star Tear - Light
Dark
Faye
750,000
200

10 Star Tear - Dark
Level 3
Primary Attribute
Boss
Rewards
Gold
Sylph Sepulcrum
Star Tears
Fire
Anotar
1,000,000
250

15 Star Tear - Fire
Water
Ice Fang
1,000,000
250

15 Star Tear - Water
Electro
Maretti
1,000,000
250

15 Star Tear - Electro
Wind
Spiny Serpentus
1,000,000
250

15 Star Tear - Wind
Dark & Light
Tarnis
1,000,000
250

15 Star Tear - Light

15 Star Tear - Dark
Level 4
Primary Attribute
Boss
Rewards
Gold
Sylph Sepulcrum
Star Tears
Electro
Demonic Enchanters
1,250,000
300

20 Star Tear - Electro
Water
Sycorax
1,250,000
300

20 Star Tear - Water
Dark & Light
Dinah
1,250,000
300

20 Star Tear - Dark

20 Star Tear - Light
Wind
Eletos
1,250,000
300

20 Star Tear - Wind
Fire
Yaros
1,250,000
300

20 Star Tear - Fire
Level 5
(4% Exploration per click)
Primary Attribute
Boss
Rewards
Gold
Sylph Sepulcrum
Star Tears
Water
Ice Fang
1,500,000
350

25 Star Tear - Water
Fire
Garol
1,500,000
350

25 Star Tear - Fire
Dark & Light
Jarnica
1,500,000
350

25 Star Tear - Dark

25 Star Tear - Light
Electro
Gaia
1,500,000
350

25 Star Tear - Electro
Wind
Bakar
1,500,000
350

25 Star Tear - Wind
Level 6
Primary Attribute
Boss
Rewards
Gold
Sylph Sepulcrum
Star Tears
Water
Iris
1,750,000
400

30 Star Tear - Water
Wind
Andola
1,750,000
400

30 Star Tear - Wind
Electro & Fire
Fire Imp
1,750,000
400

30 Star Tear - Electro

30 Star Tear - Fire
Dark & Light
Yass
1,750,000
400

30 Star Tear - Dark

30 Star Tear - Light
Level 7
(3.33% Exploration per click)
Primary Attribute
Boss
Rewards
Gold
Sylph Sepulcrum
Star Tears
Fire & Electro
Karjaya
2,000,000
450

35 Star Tear - Fire

35 Star Tear - Electro
Water
Krankor
2,000,000
450

35 Star Tear - Water
Dark & Light
Zane
2,000,000
450

35 Star Tear - Dark

35 Star Tear - Light
Wind
Agorfa
2,000,000
450

35 Star Tear - Wind
Level 8
Primary Attribute
Boss
Rewards
Gold
Sylph Sepulcrum
Star Tears
Wind
Elise
2,250,000
500

40 Star Tear - Wind
Fire & Electro
Wormageddon
2,250,000
500

40 Star Tear - Fire

40 Star Tear - Electro
Dark & Light
Warder
2,250,000
500

40 Star Tear - Dark

40 Star Tear - Light
Water
Iris
2,250,000
500

40 Star Tear - Water
Level 9
(≈2.86% Exploration per click)
Primary Attribute
Boss
Rewards
Gold
Sylph Sepulcrum
Star Tears
Wind & Water
Dragon Slayer
2,500,000
550

45 Star Tear - Wind

45 Star Tear - Water
Fire & Electro
Jarlor
2,500,000
550

45 Star Tear - Fire

45 Star Tear - Electro
Dark & Light
Gurna
2,500,000
550

45 Star Tear - Dark

45 Star Tear - Light
Level 10
Primary Attribute
Boss
Rewards
Gold
Sylph Sepulcrum
Star Tears
Wind & Water
2,750,000
600

50 Star Tear - Wind

50 Star Tear - Water
Fire & Electro
2,750,000
600

50 Star Tear - Dark

50 Star Tear - Light
Dark & Light
2,750,000
600

50 Star Tear - Fire

50 Star Tear - Electro
Level Clearing Rewards
Level
Clearing Rewards
Star Tear Shard
Star Sand
Gold
Sylph Sepulcrum
1
200
20
1,000,000
400
2
300
25
1,500,000
600
3
400
30
2,000,000
800
4
500
35
2,500,000
1000
5
600
40
3,000,000
1200
6
700
45
3,500,000
1400
7
800
50
4,000,000
1600
8
900
55
4,500,000
1800
9
1000
60
5,000,000
2000
10
1100
65
5,500,000
2200