We're Getting Mutants in the MCU - The Loop
Play Sound

Sacred Gold Tree is a limited-time mini-game event.
Mechanics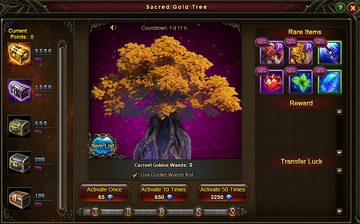 During the event, players can spend Unbound Balens to activate the Sacred Gold Tree and obtain rewards and Points. There are three options available; 1 time for 65 Balens, 10 times for 650 Balens, and 50 times for 3250 Balens. In addition, players can use Golden Wands in place of Balens.
Spending Balens a certain number of times and earning Points will both give players additional rewards.
When the Sacred Gold Tree is activated a certain amount of times by all players, the Lucky Level event will begin. All players who reach the required level will receive rare items. There are five levels; higher levels have better rewards.
Players can only participate in the Lucky Level event once per day.
?-7/31
Possible Rewards
Rare Items
Legendary Pennant Chest
Violet Imp Wings, Headwear, Blade, or Garment
Cuties Adv. Material Chest
Point Rewards
200 Points
500 Points

20x Cuties Int. Material Chest

1000 Points
2000 Points

500x Clothing Refinement Stone

3500 Points
Balen Rewards
Spend Balens 20 Times

3x Golden Wand, 5x Cuties Int. Material Chest

Spend Balens 100 Times

15x Golden Wand, 20x Cuties Int. Material Chest

Spend Balens 400 Times

50x Golden Wand, 50x Cuties Adv. Material Chest

Spend Balens 800 Times

120 Golden Wand, 100x Cuties Adv. Material Chest

Spend Balens 1500 Times

200x Pennant Ascension Stone, 250x Golden Wand
?-7/24
Possible Rewards
Items
5x Sun Crystal
30x, 10x, or 5x Lenneth Shard
30x, 10x, or 5x Kassandra Shard
30x, 10x, or 5x Asteria Shard
30x, 10x, or 5x Illiya Shard
30x, 10x, or 5x Hecate Shard
10x Moon Crystal
10x Clothing Refinement Stone
10x Dragon Blood Stone
10x Golden Sand
30x Sack of Gold
5x or 3x Goddess Tear Pack
1x Lvl. 6 HP Gem
30x or 10x Cast Stone
15x Star Crystal
20x Essence of Zeus
15x Willpower Talent Stone
1x Key of Will
20x or 10x Will Gear
20x Willpower Resistance Essence
20x Willpower Res Reduction Essence
10x Memory Crystal
50x Beast Heart
100x Terra Grass
10x Star Dust
100x Charge Fragment
10x Animation Stone
1x Pink Meowth Card
1x Lvl. 6 HP Diamond
20x Eudaemon Skill Scroll (General, Passive, or Active)
10x Well Refined Stone
10x Red Copper
30x Smelting Stone
20x Wraithstone
1x Lvl. 6 HP Divinity Soul
10x Willpower Skill Book (Passive, Active Delphic, or Active)
1x Lvl. 4 HP Gem
50x, 20x, or 10x Wave Crystal
1x Lvl. 4 HP Diamond
50x Blood of Zeus
30x Book of Wisdom
10x Blue Crystalloid
200x Ancient Bone Gem
1x Lvl. 5 Will Crystal
1x Lvl. 3 Will Crystal
1x Lvl. 4 HP Divinity Soul
10x Turquoise
Rare Items
Pink Meowth Card
Goddess Shard (Kassandra, Illiya, Lenneth, Asteria, or Hecate)
Point Rewards
100 Points
200 Points
500 Points
1500 Points
3500 Points
Balen Rewards
Spend Balens 20 Times

3x Golden Wand, 100x Wave Crystal

Spend Balens 100 Times

15x Golden Wand, 300x Wave Crystal

Spend Balens 400 Times

50x Golden Wand, 600x Wave Crystal

Spend Balens 800 Times

120 Golden Wand, 1000x Wave Crystal

Spend Balens 1500 Times

200x Pennant Ascension Stone, 250x Golden Wand
?-7/17
Possible Rewards
Rare Items
Legendary Pennant Chest
Violet Imp Wings, Headwear, Blade, or Garment
Cuties Adv. Material Chest
Point Rewards
200 Points
500 Points
1000 Points
2000 Points
3500 Points
Balen Rewards
Spend Balens 20 Times

3x Golden Wand, 13x Premium Dog Food

Spend Balens 100 Times

15x Golden Wand, 52x Premium Dog Food

Spend Balens 400 Times

50x Golden Wand, 150x Premium Dog Food

Spend Balens 800 Times

120 Golden Wand, 250x Premium Dog Food

Spend Balens 1500 Times

200x Pennant Ascension Stone, 250x Golden Wand
7/7-7/10
Possible Rewards
Items
5x Sun Crystal
30x, 10x, or 5x Lenneth Shard
30x, 10x, or 5x Kassandra Shard
30x, 10x, or 5x Asteria Shard
30x, 10x, or 5x Illiya Shard
30x, 10x, or 5x Hecate Shard
10x Moon Crystal
10x Clothing Refinement Stone
10x Dragon Blood Stone
10x Golden Sand
30x Sack of Gold
5x or 3x Goddess Tear Pack
1x Lvl. 6 HP Gem
30x or 10x Cast Stone
15x Star Crystal
20x Essence of Zeus
15x Willpower Talent Stone
1x Key of Will
20x or 10x Will Gear
20x Willpower Resistance Essence
20x Willpower Res Reduction Essence
10x Memory Crystal
50x Beast Heart
100x Terra Grass
10x Star Dust
100x Charge Fragment
10x Animation Stone
1x Coral Lizard Card
1x Lvl. 6 HP Diamond
20x Eudaemon Skill Scroll (General, Passive, or Active)
10x Well Refined Stone
10x Red Copper
30x Smelting Stone
20x Wraithstone
1x Lvl. 6 HP Divinity Soul
10x Willpower Skill Book (Passive, Active Delphic, or Active)
1x Lvl. 4 HP Gem
50x, 20x, or 10x Wave Crystal
1x Lvl. 4 HP Diamond
50x Blood of Zeus
30x Book of Wisdom
10x Blue Crystalloid
200x Ancient Bone Gem
1x Lvl. 5 Will Crystal
1x Lvl. 3 Will Crystal
1x Lvl. 4 HP Divinity Soul
10x Turquoise
Rare Items
Coral Lizard Card
Goddess Shard (Kassandra, Illiya, Lenneth, Asteria, or Hecate)
Point Rewards
100 Points
200 Points
500 Points
1500 Points
3500 Points
Balen Rewards
Spend Balens 20 Times

3x Golden Wand, 100x Wave Crystal

Spend Balens 100 Times

15x Golden Wand, 300x Wave Crystal

Spend Balens 400 Times

50x Golden Wand, 600x Wave Crystal

Spend Balens 800 Times

120 Golden Wand, 1000x Wave Crystal

Spend Balens 1500 Times

200x Pennant Ascension Stone, 250x Golden Wand
?-7/3
Possible Rewards
Rare Items
Legendary Pennant Chest
Violet Imp Wings, Headwear, Blade, or Garment
Cuties Adv. Material Chest
Point Rewards
200 Points
500 Points

20x Cuties Int. Material Chest

1000 Points
2000 Points

500x Clothing Refinement Stone

3500 Points
6/23-6/26
Possible Rewards
Items
Lenneth Shard (Listed Three Times)
Kassandra Shard (Listed Three Times)
Asteria Shard (Listed Three Times)
Illiya Shard (Listed Three Times)
Hecate Shard (Listed Three Times)
Moon Crystal
Clothing Refinement Stone
Dragon Blood Stone
Golden Sand
Sack of Gold
Goddess Tear Pack (Listed Twice)
Lvl. 6 HP Gem
Cast Stone (Listed Twice)
Star Crystal
Essence of Zeus
Willpower Talent Stone
Key of Will
Will Gear (Listed Twice)
Willpower Resistance Essence
Willpower Res Reduction Essence
Animation Stone
Mecha Mantis Card
Lvl. 6 HP Diamond
Eudaemon Skill Scroll (General, Passive, or Active)
Well Refined Stone
Red Copper
Smelting Stone
Wraithstone
Lvl. 6 HP Divinity Soul
Willpower Skill Book (Passive, Active Delphic, or Active)
Lvl. 4 HP Gem
Wave Crystal (Listed Three Times)
Lvl. 4 HP Diamond
Blue Crystalloid
Lvl. 5 Will Crystal
Lvl. 3 Will Crystal
Lvl. 4 HP Divinity Soul
Rare Items
Mecha Mantis Card
Goddess Shard (Kassandra, Illiya, Lenneth, Asteria, or Hecate)
Point Rewards
100 Points
200 Points
500 Points
1500 Points
3500 Points
Balen Rewards
Spend Balens 20 Times

3x Golden Wand, 100x Wave Crystal

Spend Balens 100 Times

15x Golden Wand, 300x Wave Crystal

Spend Balens 400 Times

50x Golden Wand, 600x Wave Crystal

Spend Balens 800 Times

120 Golden Wand, 1000x Wave Crystal

Spend Balens 1500 Times

200x Pennant Ascension Stone, 250x Golden Wand
6/16-6/19
Possible Rewards
Rare Items
Legendary Pennant Chest
Cuties Int. Material Chest
Legendary Odin Seal Dark & Light
Cuties Adv. Material Chest
Thor Seal
Cuties Basic Material Chest
Point Rewards
200 Points
500 Points
1000 Points
2000 Points
3500 Points
?-6/5
Possible Rewards
Items
Lenneth Shard (Listed Three Times)
Kassandra Shard (Listed Three Times)
Asteria Shard (Listed Three Times)
Illiya Shard (Listed Three Times)
Hecate Shard (Listed Three Times)
Moon Crystal
Clothing Refinement Stone
Dragon Blood Stone
Golden Sand
Sack of Gold
Goddess Tear Pack (Listed Twice)
Lvl. 6 HP Gem
Cast Stone (Listed Twice)
Star Crystal
Essence of Zeus
Willpower Talent Stone
Key of Will
Will Gear (Listed Twice)
Willpower Resistance Essence
Willpower Res Reduction Essence
Animation Stone
Spark Dragon Card
Lvl. 6 HP Diamond
Eudaemon Skill Scroll (General, Passive, or Active)
Well Refined Stone
Red Copper
Smelting Stone
Wraithstone
Lvl. 6 HP Divinity Soul
Willpower Skill Book (Passive, Active Delphic, or Active)
Lvl. 4 HP Gem
Wave Crystal (Listed Three Times)
Lvl. 4 HP Diamond
Blue Crystalloid
Lvl. 5 Will Crystal
Lvl. 3 Will Crystal
Lvl. 4 HP Divinity Soul
Rare Items
Spark Dragon Card
Goddess Shard (Kassandra, Illiya, Lenneth, Asteria, or Hecate)
Point Rewards
100 Points
200 Points
500 Points
1500 Points
3500 Points
Balen Rewards
Spend Balens 20 Times

3x Golden Wand, 50x Wave Crystal

Spend Balens 100 Times

15x Golden Wand, 150x Wave Crystal

Spend Balens 400 Times

50x Golden Wand, 300x Wave Crystal

Spend Balens 800 Times

120 Golden Wand, 500x Wave Crystal

Spend Balens 1500 Times

200x Pennant Ascension Stone, 250x Golden Wand
5/27-5/29
Possible Rewards
Items
Moon Crystal
Clothing Refinement Stone
Dragon Blood Stone
Golden Sand
Sack of Gold
Lvl. 6 HP Gem
Cast Stone (Listed Twice)
Star Crystal
Essence of Zeus
Willpower Talent Stone
Key of Will
Will Gear (Listed Twice)
Animation Stone
Speed Demon Card
Lvl. 6 HP Diamond
Eudaemon Skill Scroll (General, Passive, or Active)

Lvl. 6 HP Soul

Willpower Skill Book (Passive, Active Delphic, or Active)
Lvl. 4 HP Gem
Wave Crystal (Listed Three Times)
Lvl. 4 HP Diamond
Blue Crystalloid
Ancient Bone Gem (Listed Three Times)
Lvl. 5 Will Crystal
Lvl. 3 Will Crystal
Lvl. 4 HP Divinity Soul
Rare Items
Speed Demon Card
Resonance Crystal
Beast Heart
Terra Grass
Pennant Ascension Stone
Point Rewards
100 Points
200 Points
500 Points
1500 Points
3500 Points
?-May 22
Possible Rewards
Items
Wind & Water Emblem
Light & Dark Emblem
Clothing Refinement Stone (Listed Twice)
Sylph Seal (Thor, Frigga)
Legendary Odin Seal Dark & Light
Battleheart Wings, Horns, Weapon, or Robe
Sack of Gold (Listed Twice)
Epic Pennant Chest

Perfume Chest

Dragon's Whisper
Advanced Henna (Listed Twice)
Terra Grass (Listed Twice)
Adv. Mahra (Listed Twice)
Smelting Stone (Listed Twice)
Adv. Sepulcrum (Listed Twice)

Lvl. 6 HP Divinity Soul

EXP Talisman (Listed Three times)
Lvl. 4 HP Gem
Vulcan Pack (Listed Twice)
Lvl. 4 HP Diamond
Lvl. 3 Will Crystal
Lvl. 4 HP Divinity Soul
Rare Items
Legendary Pennant Chest
Battleheart Wings, Horns, Weapon, or Robe
Epic Pennant Chest
Point Rewards
200 Points
500 Points
1000 Points
2000 Points

500x Clothing Refinement Stone

3500 Points
?-May 15
Possible Rewards
Items
Kassandra Shard
Asteria Shard
Illiya Shard
Hecate Shard
Cast Stone (Listed twice)
Will Gear (Listed twice)
Gilded Dragon Card
Eudaemon Skill Scroll (General, Passive, or Active)

Lvl. 6 HP Soul

Willpower Skill Book (Passive, Active Delphic, or Active)
Lvl. 4 HP Gem
Lvl. 4 HP Diamond
Lvl. 3 Will Crystal
Lvl. 4 HP Divinity Soul
Rare Items
Minos Priest Card
Resonance Crystal
Beast Heart
Terra Grass
Pennant Ascension Stone
Point Rewards
100 Points
200 Points
500 Points
1500 Points
3500 Points
?-May 8
Possible Rewards
Rare Items
Legendary Pennant Chest
Ashen Glory Wings, Cap, Weapon, or Robe
Epic Pennant Chest
Point Rewards
200 Points
500 Points
1000 Points
2000 Points

500x Clothing Refinement Stone

3500 Points
?-April 30
Possible Rewards
Items
Kassandra Shard
Asteria Shard
Illiya Shard
Hecate Shard
Cast Stone (Listed twice)
Will Gear (Listed twice)
Gilded Dragon Card
Eudaemon Skill Scroll (General, Passive, or Active)

Lvl. 6 HP Soul

Willpower Skill Book (Passive, Active Delphic, or Active)
Lvl. 4 HP Gem
Lvl. 4 HP Diamond
Lvl. 3 Will Crystal
Lvl. 4 HP Divinity Soul
Rare Items
Minos Priest Card
Gilded Dragon Card
Resonance Crystal
Beast Heart
Terra Grass
Pennant Ascension Stone
Point Rewards
100 Points
200 Points
500 Points
1500 Points
3500 Points
Balen Rewards
Spend Balens 20 Times
Spend Balens 100 Times

15x Golden Wand, 5x

Perfume Chest

Spend Balens 400 Times

50x Golden Wand, 30x Pennant Ascension Stone

Spend Balens 800 Times

120 Golden Wand, 80x Pennant Ascension Stone

Spend Balens 1500 Times

200x Pennant Ascension Stone, 250x Golden Wand