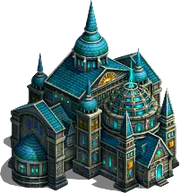 The Henna Lab is a Building that is accessed from a player's city after achieving Class Advancement. Players can obtain Henna and Advanced Henna from the Henna Lab that can be used to apply Tattoos.
Mechanics
Each player has access to three Henna Labs. Each Henna Lab can be harvested for Henna every three hours.
In addition to harvesting Henna Labs, players can also raid other players' labs to obtain extra Henna. If the raid is a success, not only will players gain Henna depending on the Lab's level, they will also gain 10 Lab EXP; gaining enough Lab EXP will increase the Henna Lab's level, which increases the amount of Henna that can be harvested.
In addition to the Henna obtained from raiding labs, players can also earn Henna according to how many raids they win in a row; if a player loses, their winning streak is reset.
After a raid is carried out, players will have to wait 30 minutes before they can begin another raid. (Un)Bound Balens can be spent to speed up this cooldown; the cost is 5 Balens per minute left, up to a maximum of 150 Balens.
Levels
| Level | Exp Needed | Henna/Hour | Advanced Henna/Hour | Extra Henna Chance |
| --- | --- | --- | --- | --- |
| 1 | Base | 2 | 0 | 0% |
| 2 | 15 | 4 | 0 | 0% |
| 3 | 20 | 6 | 0 | 25% |
| 4 | 25 | 8 | 0 | 40% |
| 5 | 40 | 10 | 0 | 50% |
| 6 | 100 | 12 | 0 | 65% |
| 7 | 150 | 14 | 0 | 80% |
| 8 | 200 | 16 | 0 | 90% |
| 9 | 200 | 18 | 0 | 100% |
| 10 (Max) | 250 | 20 | 1 | 20% |
Winning Streak Rewards
| Streak | Henna Rewards |
| --- | --- |
| 1-2 | 1 |
| 3-4 | 2 |
| 5-6 | 3 |
| 7-8 | 4 |
| 9-10+ | 5 |