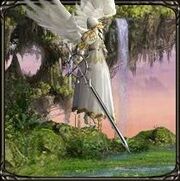 Angels are a troop, which can be recruited from the Barracks at level 40.
Overview
The Angel is something of a mixed bag as a troop.  When first available, Angels have a higher magical defense than the Knight troop but not as good in their physical defense. Angels also have less HP than Knights.  The Angels' advantage is the Restore super skill (which only the Angels have) that they use to heal themselves and you.  However, the downside to Restore is that the healing comes at the cost of an attack.  Even with Enlightenments, Restore does not heal for enough to make the skill worthwhile for long battles especially in PvP situations.  For players in the Knight class, or an Archer, with lots of hit points, the Angel can work.  For a mage, Angels will not be a good choice for damage absorption.  But their magical attacks would add to your own.
General Information:
Description: A divine race of angelic warriors that will only submit to the strongest of masters.
Available at: Barracks Level 40
Recruitment cost: 4 Gold
Upgrade Cost Multiplier: 15
Skill: Restore
Target: Single Target
Description: 20% chance to partially restore the HP of a teammate. First cast randomly restores HP to any teammate while further casts restore the HP to the teammate with the lowest HP.
Enhanced Description: If this healing move triggers, the Angel will do this ability instead of attacking. Given how troops usually take more damage than the player, this move will rarely if ever help the player directly. Exception is battleground after several fights. (You stay at your HP but Troops start with 100% again.)
Daru Upgrade Cost
Below are the required Daru values for upgrading Angels' troop level:
| Level | Cost For level (Daru) | Total Cost |
| --- | --- | --- |
| 1 | 0 (Default) | 0 |
| 2 | 120 | 120 |
| 3 | 405 | 525 |
| 4 | 960 | 1,485 |
| 5 | 1,875 | 3,360 |
| 6 | 3,240 | 6,600 |
| 7 | 5,145 | 11,745 |
| 8 | 7,680 | 19,425 |
| 9 | 10,935 | 30,360 |
| 10 | 15,000 | 45,360 |
| 11 | 19,965 | 65,325 |
| 12 | 25,920 | 91,245 |
| 13 | 32,955 | 124,200 |
| 14 | 41,160 | 165,360 |
| 15 | 50,625 | 215,985 |
| 16 | 61,440 | 277,425 |
| 17 | 73,695 | 351,120 |
| 18 | 87,480 | 438,600 |
| 19 | 102,885 | 541,485 |
| 20 | 120,000 | 661,485 |
| 21 | 138,915 | 800,400 |
| 22 | 159,720 | 960,120 |
| 23 | 182,505 | 1,142,625 |
| 24 | 207,360 | 1,349,985 |
| 25 | 234,375 | 1,584,360 |
| 26 | 263,640 | 1,848,000 |
| 27 | 295,245 | 2,143,245 |
| 28 | 329,280 | 2,472,525 |
| 29 | 365,835 | 2,838,360 |
| 30 | 405,000 | 3,243,360 |
| 31 | 446,865 | 3,690,225 |
| 32 | 491,520 | 4,181,745 |
| 33 | 539,055 | 4,720,800 |
| 34 | 589,560 | 5,310,360 |
| 35 | 643,125 | 5,953,485 |
| 36 | 699,840 | 6,653,325 |
| 37 | 759,795 | 7,413,120 |
| 38 | 823,080 | 8,236,200 |
| 39 | 889,785 | 9,125,985 |
| 40 | 960,000 | 10,085,985 |
| 41 | 1,033,815 | 11,119,800 |
| 42 | 1,111,320 | 12,231,120 |
| 43 | 1,192,605 | 13,423,725 |
| 44 | 1,277,760 | 14,701,485 |
| 45 | 1,366,875 | 16,068,360 |
| 46 | 1,460,040 | 17,528,400 |
| 47 | 1,557,345 | 19,085,745 |
| 48 | 1,658,880 | 20,744,625 |
| 49 | 1,764,735 | 22,509,360 |
| 50 | 1,875,000 | 24,384,360 |
| 51 | 1,989,765 | 26,374,125 |
| 52 | 2,109,120 | 28,483,245 |
| 53 | 2,233,155 | 30,716,400 |
| 54 | 2,361,960 | 33,078,360 |
| 55 | 2,495,625 | 35,573,985 |
| 56 | 2,634,240 | 38,208,225 |
| 57 | 2,777,895 | 40,986,120 |
| 58 | 2,926,680 | 43,912,800 |
| 59 | 3,080,685 | 46,993,485 |
| 60 | 3,240,000 | 50,233,485 |
| 61 | 3,404,715 | 53,638,200 |
| 62 | 3,574,920 |  57,213,120 |
| 63 | 3,750,705 |  60,963,825 |
| 64 | 3,932,160 | 64,895,985 |
| 65 | 4,119,375 | 69,015,360 |
| 66 | 4,312,440 | 73,327,800 |
| 67 | 4,511,445 | 77,839,245 |
| 68 | 4,716,480 | 82,555,725 |
| 69 | 4,927,635 | 87,483,360 |
| 70 | 5,145,000 | 92,628,360 |
| 71 | 5,368,665 | 97,997,025 |
| 72 | 5,598,720 | 103,595,745 |
| 73 | 5,835,255 | 109,431,000 |
| 74 | 6,078,360 | 115,509,360 |
| 75 | 6,328,125 | 121,837,485 |
| 76 | 6,584,640 | 128,422,125 |
| 77 | 6,847,995 | 135,270,120 |
| 78 | 7,118,280 | 142,388,400 |
| 79 | 7,395,585 | 149,783,985 |
| 80 | 7,680,000 | 157,463,985 |