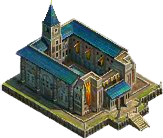 At the Altar of Ennoblement, a player may rest and pray to the Divine Statues to restore their Stamina in a process known as "Cultivating." There are nine rooms in the Altar of Ennoblement window: Sunny Woods, Eye of the Divine, Goddess of Light, Divine Altar, Apollo's Night, Fearless Meadows, Power of Titan, Altar of Longing, Valley of Wisdom  respectively from left to right.
60 Stamina points can restored through Cultivating. For every two minutes spent cultivating, the player will receive one Stamina point. Cultivation will stop automatically once the Cultivation countdown ends or the number of obtainable Stamina points reaches zero. If Cultivation is interrupted, Cultivation time and points will be saved for future visits. Player may speed up the process by using balens or the spirit covenant.  The Alter will reset each day.
If player reaches 200 stamina, continued Cultivation will consume your obtainable Stamina.  But your stamina will not increase above 200.
The Altar of Ennoblement is also one of two areas where two players can duel each other (Cloud City is the second) outside a battleground or the Arena.
As of the current patch, this feature is no longer available.